Services
We at Andrew's Removals & Freight we handle all types of import and export cargo from break bulk, bulk, groupage, containers and tanktainers, by road and sea. Whilst we warehouse much of our exports, we also arrange for loading ex factory / third party locations. Our cargo ranges from foodstuffs to furniture, and includes chemicals, hazardous and non-hazardous and abnormal cargoes.
Computerized Customs Clearing & Consultancy
Our computerized systems are linked with the Botswana Unified Revenue Services (BURS) customs clearing system, therefore we also assist you in clearance of your merchandise.
Freight Forwarding
International
We use a number of reliable transporters to freight our cargo to or from amywhere across the Globe. We are particularly based in Botswana but we also handle cargo into Namibia, Zambia, Zimbabwe, Lesotho and South Africa. We handle full loads and consolidations, hazardous and non-hazardous cargo, dry and refrigerated cargo.
National
We are able to move containers to and from the port by both road and rail networks. Our wide network of professional service providers, which allows us not to have offices nationwide as cargo can be moved as quickly and with efficiency from and to anywhere.

Domstic
We are able to facilitate the local distribution for our clients, also arranging groupage and break bulk cargoes to and from the port, as well as overnight deliveries to and from Durban, Welvis' Bay and Maputo.
Removals of Household Effects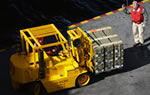 In view of the vast amount of cargo we ship to East and West Africa, we have priority status with most of the Lines calling at these ports. As a result, we are in a strong position to offer very competitive freight rates and space on vessels that are generally over committed.

Trading
We are proud to work in association with a number of successful international traders. We handle both their import and export cargo, ranging from industrial and mining machinery, to sanitary ware and building supplies, as well as general commodity brokering. Trading forms a part of our development strategy and we are working to increase our activities in this field.
Bonded Warehousing Services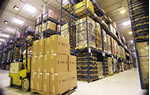 Andrew's Removals & Freight supply our clients with a wide array of warehousing and related services. Our state of the art warehouses includes bonded warehousing, security vault storage, bar-coding, picking and packing facility, crating and many other tailor-made services as per the clients' request.
We offer 24 hour high tech video surveillance and secure facilities for careful handling of cargo. At Andrew's Removals & Freight, we can structure a warehouse solution to suit individual specifications. Our team listens carefully to your warehousing challenges and conducts a thorough analysis of your business requirements. Using this information and our proven experience, we can construct an optimal solution to suit your cost and service requirements.